TO AND THROUGH HIGHER EDUCATION: Innovative Approaches to Meeting the Needs of Students in Foster Care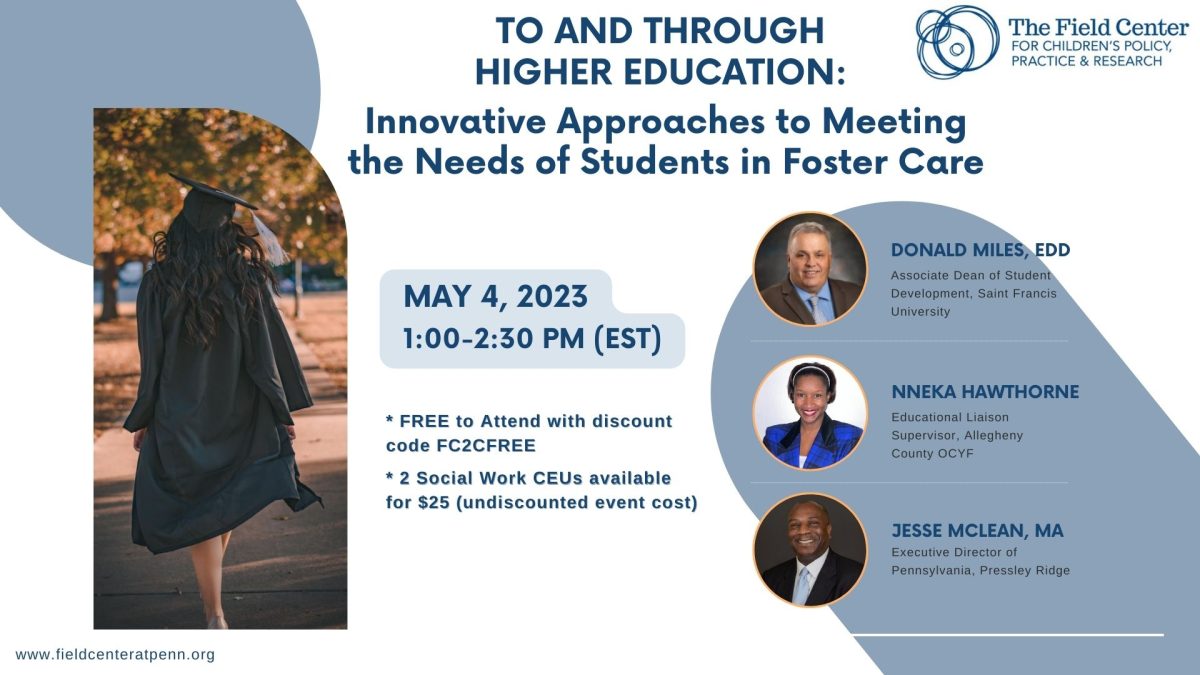 FREE Webinar with Discount Code!
With resources and support, students with experience in foster care are more likely to access and succeed in higher education. New research in Pennsylvania highlights common barriers and challenges experienced by students and campuses alike in getting young people to and through college. Longstanding problems require innovative solutions. In this webinar, Dr. Donald Miles will share findings from his dissertation "A Study of the Pennsylvania State System of Higher Education Schools' Support Systems for Emancipated Youth Who Desire to Obtain a Bachelor's degree". Following, you will hear from passionate professionals who are rejecting "business-as-usual" approaches and getting creative in ensuring that youth in foster care can reach their higher education goals.
What You'll Gain
Attendees will gain knowledge in understanding common barriers to higher education success for students with foster care experience. Data on service utilization on university campuses will be shared. Participants will hear about concrete ideas and resources that can be implemented to positively impact youths' higher education outcomes. This session has been approved for 2 Social Work Continuing Education Credits (CEUs) for the event cost of $25.
Who Should Enroll?
This webinar is geared towards anyone working with high school students in or aging out of foster care. Professionals who would benefit include child welfare caseworkers, Independent Living workers, K-12 educators, LEA Foster Care Points of Contact, attorneys/GALs, CASAs, and more!
Key Topics
Campus Programming for Students with Foster Care Experience
Barriers to Higher Education Success
Mentoring/Coaching
Resources for Student Success
More Info
NOTE: THIS IS A FREE WEBINAR. Only attendees seeking CEU credit need to pay the $25 fee. Use Coupon Code FC2CFREE if you are NOT seeking a CEU certificate.
You will be prompted to create a FREE PennPath account after placing this course in your cart and proceeding to checkout.
Please visit the Field Center's Foster Care to College Resource Library to learn more: www.fostercaretocollege.org